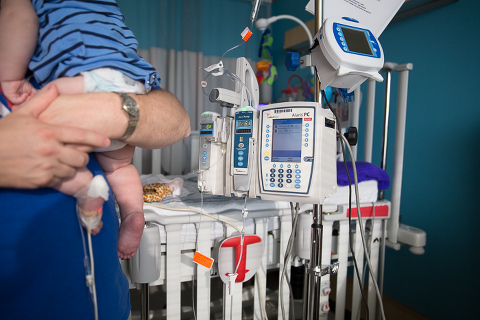 Last night I walked through the halls of Wesley Hospital to find my way to the PICU, and, where 5 month old Nathaniel is. Baby Nathaniel has leukemia and is undergoing treatments to conquer it. He's hooked up to wires and tubes- there's monitors beeping, he has a diaper rash, he's losing the top layer of his skin. He's had pneumonia and trouble breathing. All on top of the ugliness of the diagnosis and physical pain it brings.  It's just plain awful. There's no way around saying that. I can't even begin to imagine what his mom and dad go through each day- seeing their son sick.
I cried as I listened to Sean (Nathaniel's dad) talk about the small victories they've had. Getting Nathaniel to smile. Learning to suck again after having a feeding tube. Having him completely finish his bottle. It was so awesome to see their family rejoicing in the small details of success.
And while they wait, they pray.
Today, I'm thankful for my health. I'm thankful my kids are healthy. Life is so precious- I wonder why it takes someone being sick for me to realize that? We are given every breath we take, and many of my breaths are wasted.
I'm sad. I'm sad for Nathaniel and his family. I'm sad that they have to go through this. I'm sad for the family of the baby I saw in the waiting room who was sick in a Doctor's arms. I'm sad for the family I saw getting a tour by the Chaplain of the PICU- that maybe was having one of their babies admitted. I'm sad for the older woman I saw pushing her weak husband in a wheelchair down the hallway.
But I'm also inspired. I'm inspired to live life to the fullest. To tell my kids daily that I love them. To thank Jesus daily for things good and bad. To be a woman who loves and inspires others to love.
Life is precious. Let's not waste it.